As a native Chicagoan, I'm used to fighting about pizza. I've had to defend my beloved deep dish- and tavern style- to New Yorkers, Californians and now, Romans. But, with all that being said, I love eating pizza in Rome. (A statement so obvious I could be saying "the sky is blue"- but still, worth being said.)
Below is a mini list of the best pizzerias I've tried in Rome. Disclaimer: It's hard to place a definitive "best" on one pizzeria alone because pizza preference- like a fingerprint- is completely unique to each person. Disclaimer aside, do feel free to send hate emails and angry comments if I snubbed your favorite pizzeria from a spot on the list. So without further ado, the best pizza in Rome- updated for Summer 2022.
This iconic pizzeria on Viale di Trastevere is known for its delicious, efficient pizza. Now you may ask: why is it nicknamed "the Morgue?" Well, take the marble tables ('marmi' meaning marble) + brightly white fluorescent light, and you've got yourself an answer.
Don't let the off-putting moniker scare you, however, because this is a classic. Be ready to wait in line- and make sure you know your order subito- because this is a no-nonsense pizzeria that has ordering down to a precise science.
My recommendations: get suppli to start out, then go to a fiori di zucca (fried squash flowers) + sausage pizza. Incredible. But, if that's not your style, there's pizza options galore as well as fried cod. (But I say- go for the pizza!)
It's also stood the test of time, being around for decades now. In an interview with the Italian culinary site Puntarella Rossa, one of the owners mentions, "It's our great-grandfather's recipe and it's very simple: flour, yeast, water, oil and salt. We have been making the same pizza for fifty years." Here's to wishing that iconic crispy crust at least another 50 more.
Pizzeria Ai Marmi. Viale di Trastevere 53, Rome. Tel. 06 5800919. Facebook page
Bonci
Pizza al taglio. The "choose your own adventure" of pizza, where your only limit is how many kilograms of pizza you can eat. Bonci Pizzarium offers an incredibly fresh rotating options of pizza to choose from, from classics with tomatoes and mozzarella to options that will satisfy even the biggest of appetites with potatoes and rosemary.
Some more info about the great joint: it's a pick by Anthony Bourdain where he stopped in and enjoyed a few slices. It's also been a winner of the best pizza in Italy in 2021. Plus, it's gone global! As of 2021 you can visit a location in Miami and another (opened 2017) in my own hometown of Chicago.
How to order: choose what pizza you want from the open glass deli counter, indicate how much of it, and the clerk will weigh it and charge you by kg for what kind of pizza. You can get it heated up to go or eat it right outside. No matter what you choose, you'll be dining at the original pizzeria that started an international trend.
Bonci Pizzarium is located at Via della Meloria, 43, in Prati. It is open from Tuesday to Sunday from 11 a.m. to 10p.m. and closed on Monday. For more information visit here.
A pizza gem in the heart of Testaccio
Confession: Nuovo Mondo has the best fiori di zucca that I've had in Rome, potentially because they seem to be both the cheesiest and the greasiest. If that doesn't stop you, dig in here with perfectly crispy Roman pizza. My favorite on their menu is with cicoria, bitter green chicory combined with some sausage, and done bianca without tomatoes.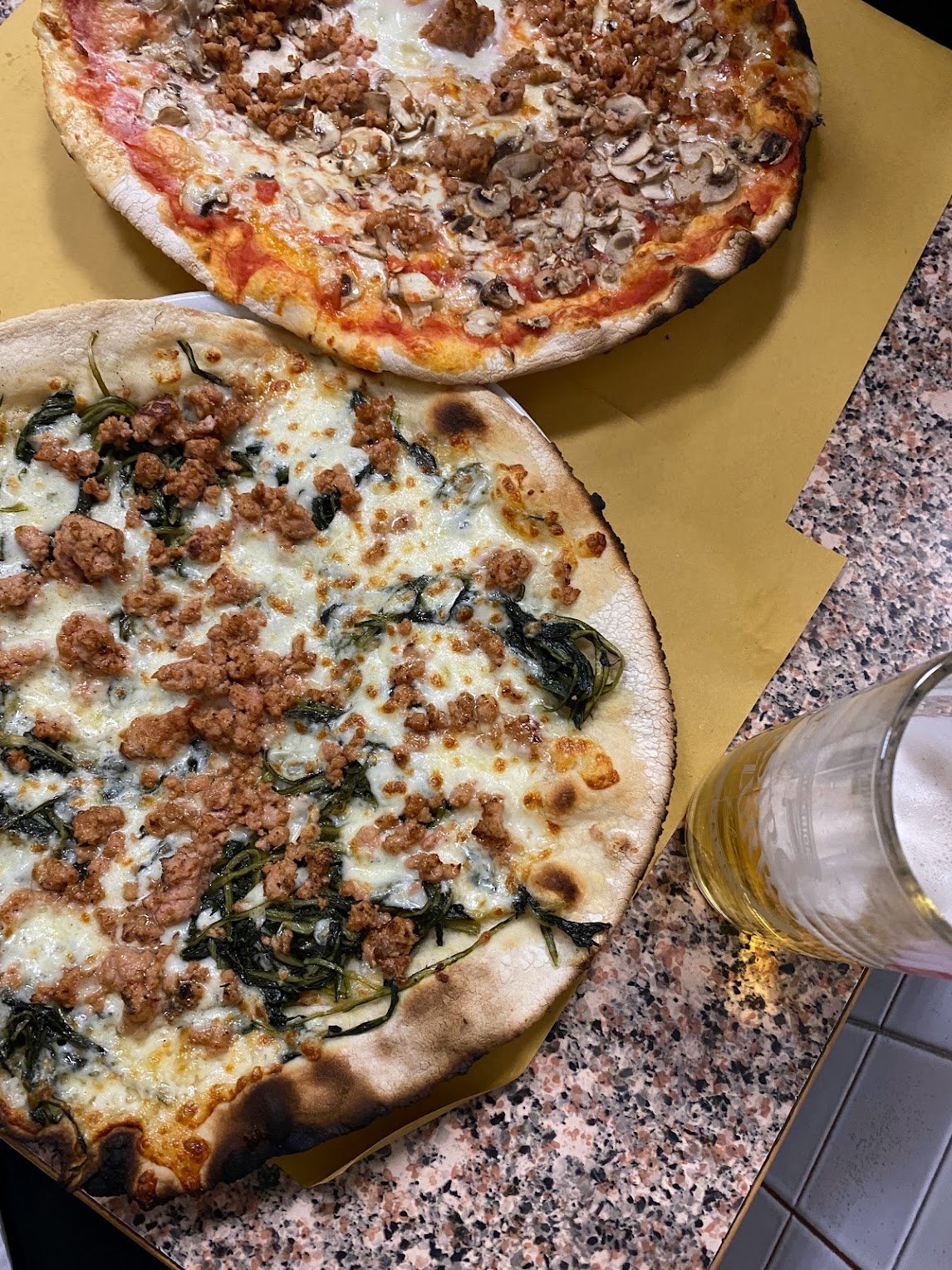 Also, a pizza tip: if you're the kind of person that likes things hot, ask for some olio piccante con peperoncini. Most pizzerias- including Nuovo Mondo- will have some on hand to spice up your dish.
PS: if you're looking for dessert afterward, you're right next door to an iconic gelateria, Giolitti. It's a time machine to another epoch with delicious and classic flavors. With a pizza from Nuovo Mondo and a cup or cone from Giolitti, you'll have a perfectly done night of eating in Rome.
Nuovo Mondo is located at Via Amerigo Vespucci, 9/12/15, 00153 in Testaccio. It is open from Monday to Sunday from 7pm to 12:30am. For more information visit here.
What do you think? Is this also your list of the best pizza in Rome? Tell us in the comments!
PS: if you're looking for other things to do this summer in Rome, I recommend checking out this museum exhibition or booking an archeorunning tour (the more running, the more hunger for pizza!)